The fortress of Châtel is one of the most important examples of medieval military architecture in Lorraine.
Built at the end of the 11th century by the Counts of Vaudémont, the youngest branch of the Dukes of Lorraine, the first castle is made of a quadrangular enclosure surrounding a large square keep which probably served as the lord's dwelling.
It was significantly enlarged in the 13th century, thanks to a loan from the Duke of Bar, with the addition of a porch tower, flanking towers along the river Moselle and the construction of a separate manor house.
Through a marriage, the castle passed into the hands of the powerful Neufchâtel family in 1373 and was considerably strengthened for artillery purposes between 1430 and 1450 by Thiébaut VIII, then by his son Thiébaut IX. With considerable financial means at its disposal, as well as a great deal of expertise in the field of weaponry, Thiébaut IX was the Marshal of Burgundy. The Neufchâtel family built the entrance châtelet, the double enclosure to the north and a shield wall to the south along the river Moselle. The fortress, although besieged several times, was never taken during this period.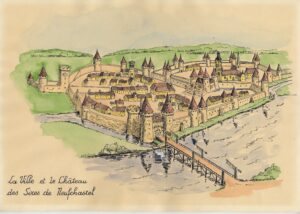 After the death of Charles the Bold at the battle of Nancy in 1477, the fortress became a part of Lorraine again and it was not until the century of Louis XIV that it was defeated by the troops of Marshal de Créqui, then dismantled and razed to the ground in the winter of 1670-1671.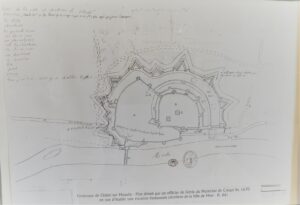 Having fallen into oblivion, the ruins, which cover more than 5 hectares, are now the subject of a major work campaign, on the initiative of the Association du Vieux Châtel, which has been working on the site since 1972, with the financial and technical support of the Communauté d'Agglomération d'Epinal, its current owner. The site was classified as a historical monument since 1988 and the works are monitored by the Direction Régionale des Affaires Culturelles.
The 13th and 15th century underground galleries and installations, the double enclosure to the north with its 57-metre-wide dry ditch, the remains of the 11th century square keep, the ordnance mantlet wall facing the river Moselle, the location of the drawbridge as well as the trolley unloading system with its hoist are all visible today.
The Communauté d'Agglomération d'Epinal has defined an ambitious programme to develop the site around the theme of the Middle Ages.